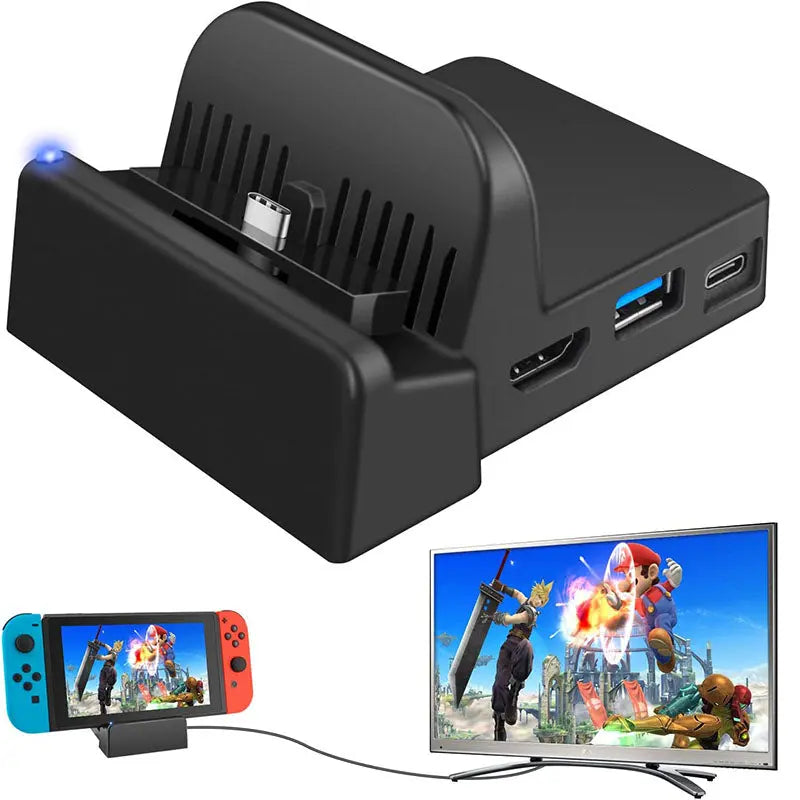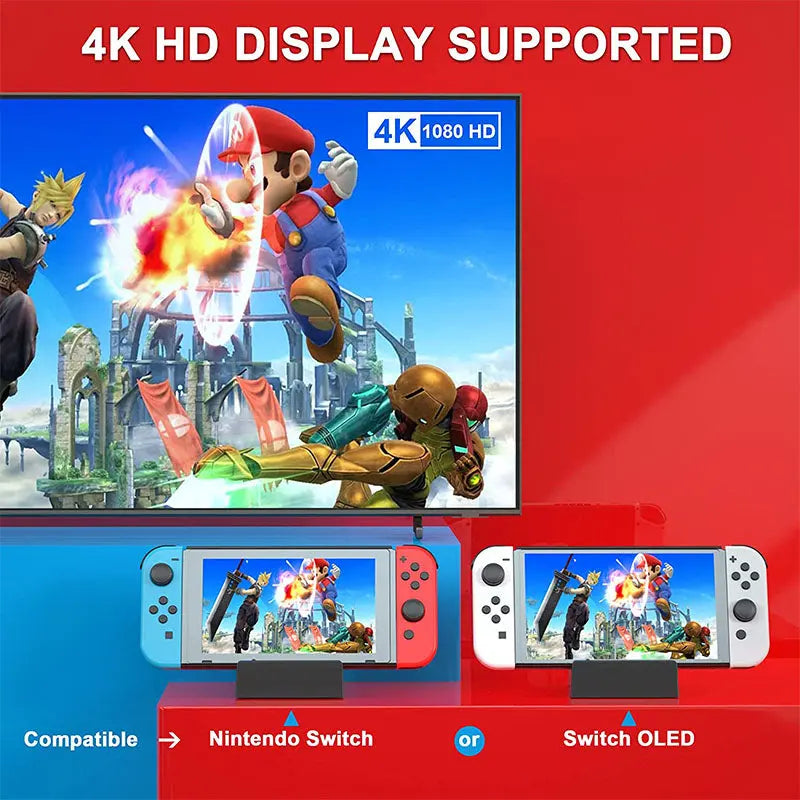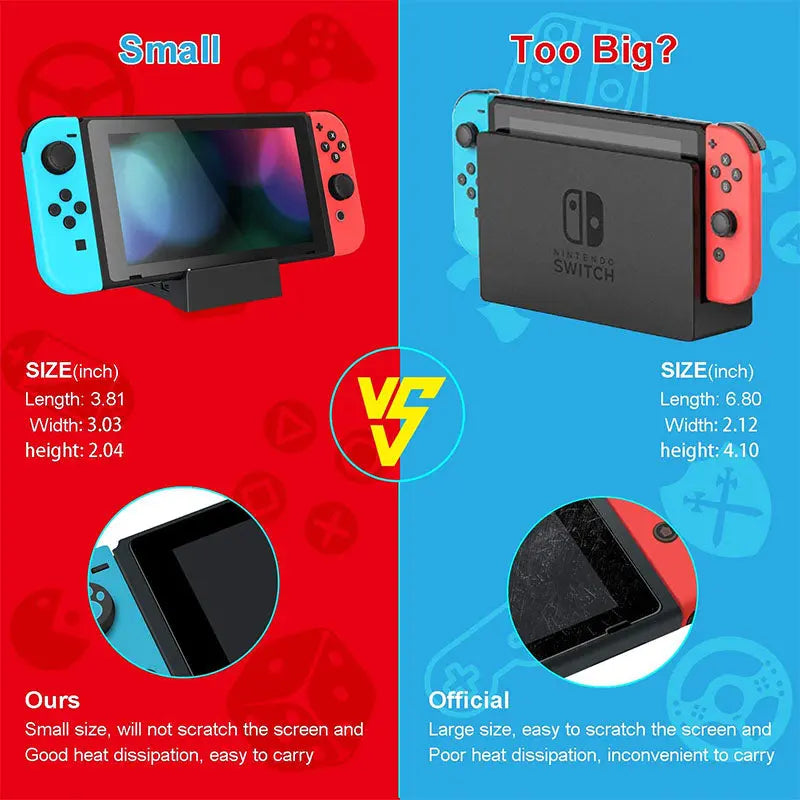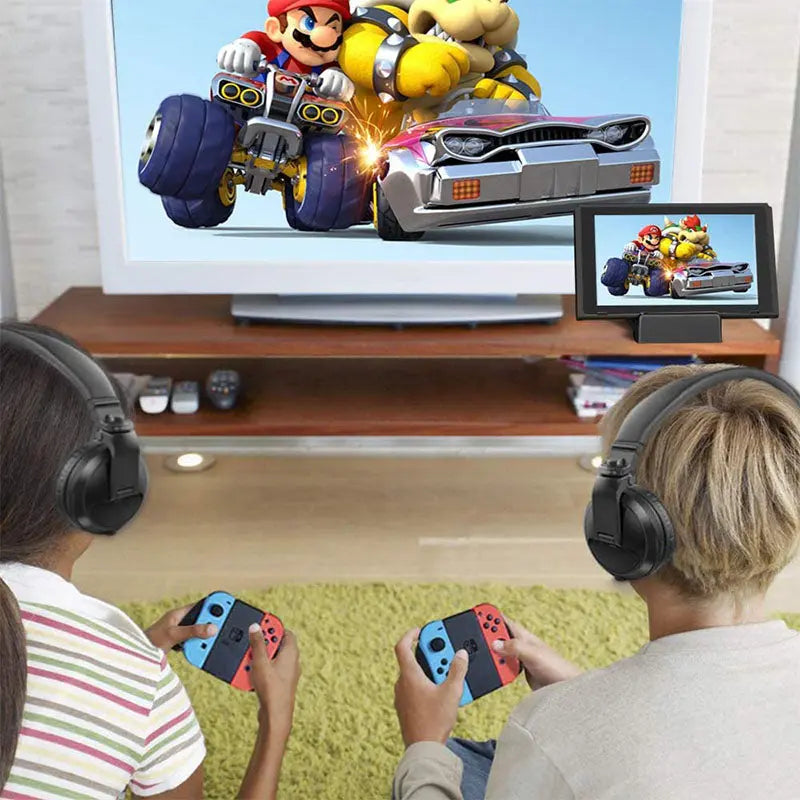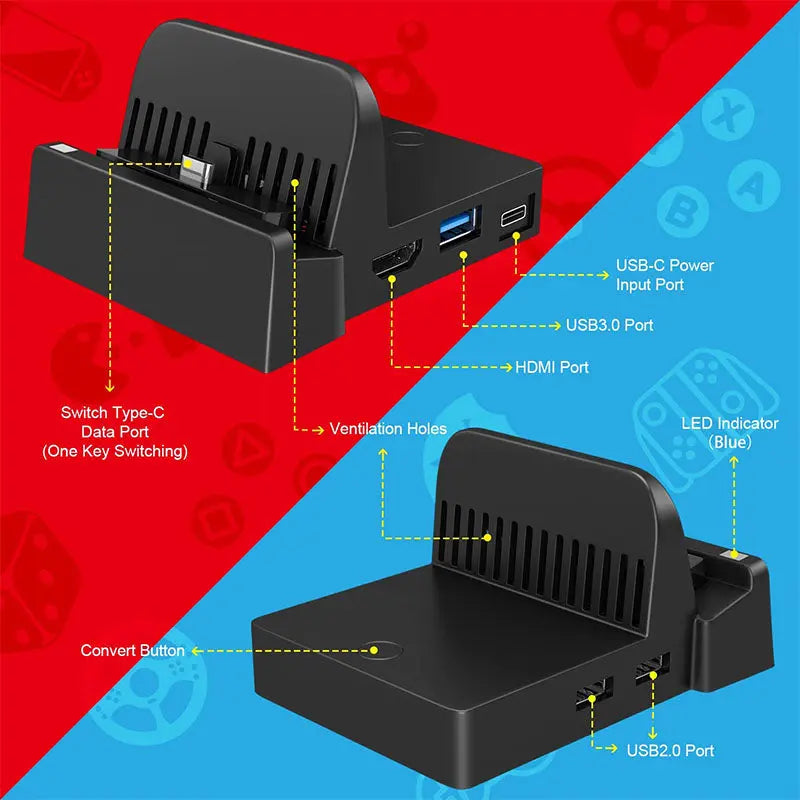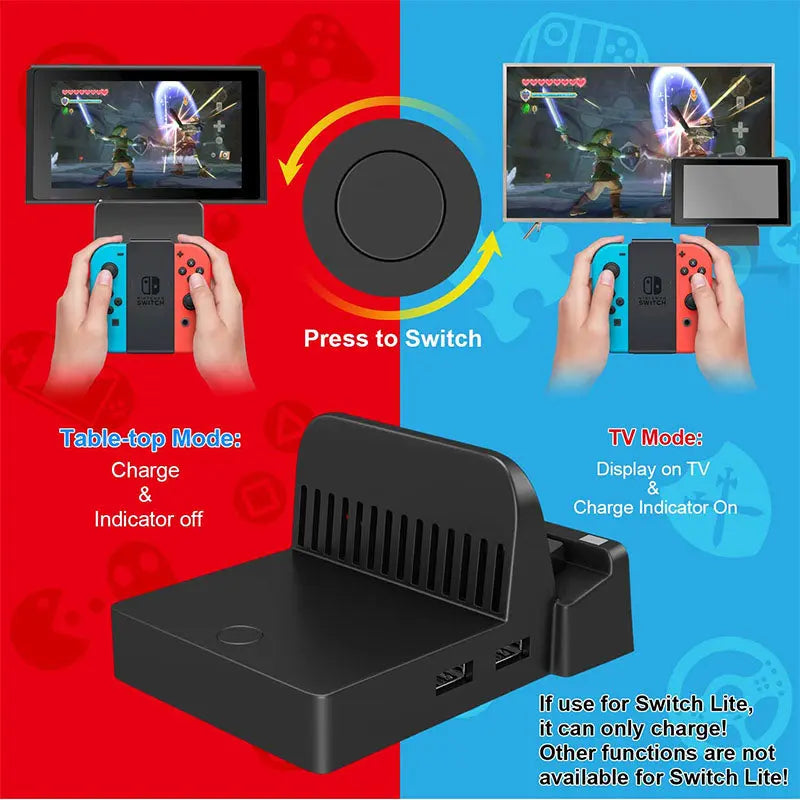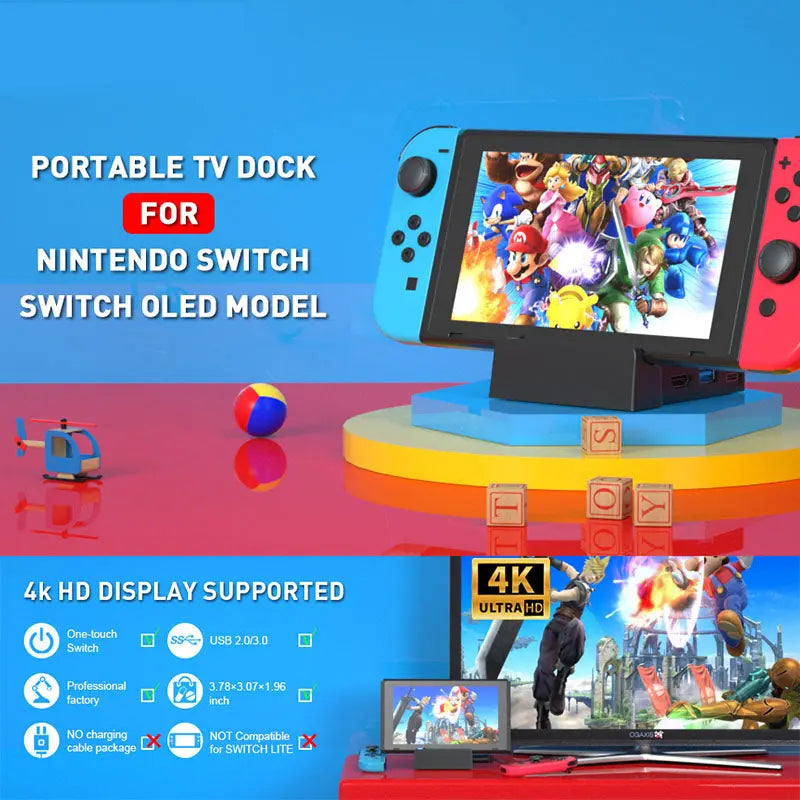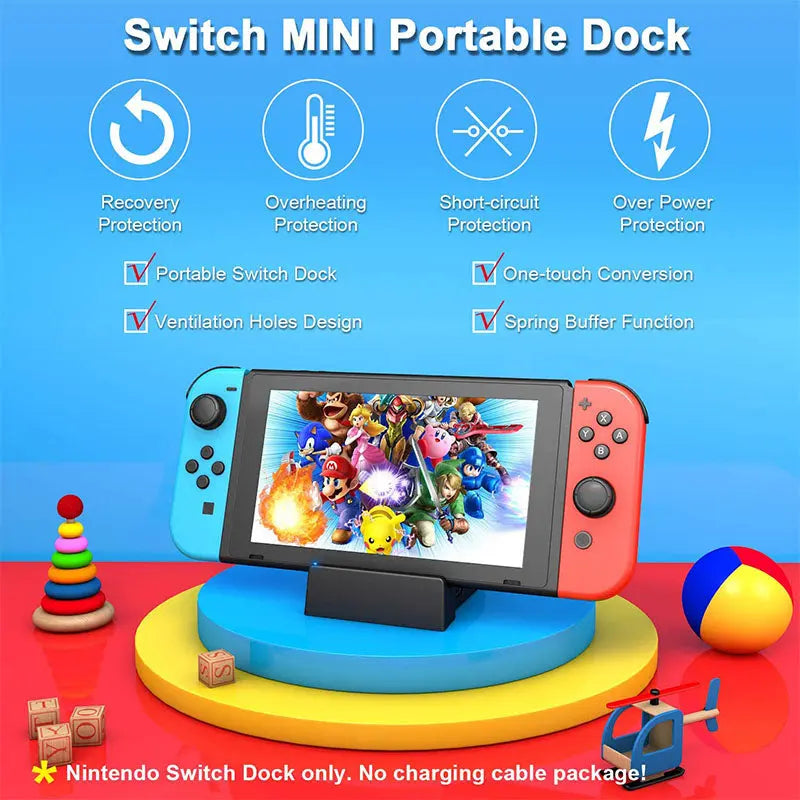 Pojifi 4K HDMI TV Adapter for Nintendo Switch/Switch OLED Compact
Compact,Lightweight and Portable Switch Dock: Compared to the original Nintendo switch dock, our volume is only 20% of its size. Ponkor Dock is so mini, easy to take anywhere and Work capability is the same as official standard. When you wanna travel or be a guest, it's really a great replacement for the original switch docking.

One-touch Conversion Display: You can switch between console display and TV display in seconds, by just pressing the button on the dock. There's an LED in the button to show when it's under TV display mode (Note:LED light display, Blue light is TV mode, not lit for switch game console mode, support 4K HD display). You can charge the switch at the same time while playing with TV display.

Ventilation Holes Design & Smart Chip System: Oversized venting on both sides of the switch stand, so don't worry about ventilation holes will be blocked and affect equipment cooling. Built in smart original chip, having Short-circuit Protection, Over Power Protection, Recovery Protection and Overheating Protection. Our switch docking station have professional technical support, after repeated testing, with the highest quality assurance !

Switch Stand with USB 3.0- The guide notch have a spring buffer function, You don't have to worry about damaging the port over time when docking the console in. The switch fits into the dock tight and secure. Rubber studs on the bottom of the kickstand prevent it from sliding around or falling over on accident. It allows you to play in table-top mode with multiple people. There's also a extra USB 3.0 port to connect with USB controller or controller adapter.

NOTE: Charging Dock for Nintendo Switch/ Switch OLED. Not compatible for Switch Lite! No charging cable included!

This portable switch dock is a must have for player who are looking to play on-the-go. It can replace the official Nintendo switch dock and take it with you anywhere.

Great alternative to original dock with multi-functions:

 


Mini, lightweight and portable - Small enough to put in pocket. Easy to carry around while traveling or going out.

Ventilation Holes Design - The cooling holes on both sides speed up the heat of the switch game console and protect your game console. High temperature is a killer of battery life and electronic components.

Charge while playing - Charge your Nintendo Switch/ Switch OLED while playing games on in Tabletop mode. No risk of overheat and scratching, since switch just sits on top of it, which offers good ventilation to keep switch cool.

Switch HDMI Adapter supports HD games - Take this mini replacement HDMI adpter dock to connect switch with hotel or friend's TV or computer monitor, and get the same image quality as the original dock, support 4K HD display.

 


Notice: There is no cable or charger in the package

 


To charge and play on the tv or tabletop mode at the same time, you need a 15V/2.6A power brick. The original switch wall charger will work in this case.

To charge the console only, you can use normal charger for phones, which offers 5V/2A power input. But you can not charge while playing in this case.

With one USB 3.0 and two USB 2.0, it is compatible with gamecube adapter.

There's no HDMI cable USB cable and charger in the package.

The LED indicator light when the video is convered to TV. And it goes out when video switches back to console.